All He Does Is Catch Touchdowns!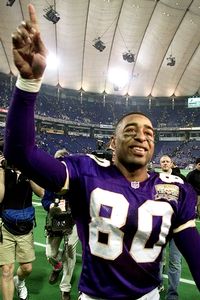 Cris Carter
I saw
this article
today on ESPN about the 2009 Class of Pro Football Hall of Fame. I read through the list of the guys that got in, such as Bruce Smith, Rod Woodson, and Derrick Thomas. No real suprises there. I kept reading the list - Randall McDaniel, Bob Hayes, Ralph Wilson. Yeah, I guess those guys deserved it as well.
I continued reading... What? Is that it? Must be some mistake - some typo. Where is Cris Carter? After all, it's a no-brainer that he gets in.
I surfed around a little at other news outlets. Surely one of them got the story right.
You gotta be kidding! Carter didn't make it? THis guy clearly deserved to be in the Hall. Like the immortal Buddy Ryan said, "
All he [did was] catch touchdowns
". His career stats speak for themselves. He is 2nd, behind only Jerry Rice in receptions. He should have been a first ballot guy.
Here are his stats:

Reception: 1,101
Yards: 13,899
Touchdown: 130
Pro Bowls: 8

On top of all that, Chris Carter is an example of the kind of guy the NFL should be promoting. He had early troubles in personal life while a member of the Philadelphia Eagles. This eventually led to his release from the team by then Eagles coach Buddy Ryan. Carter credits Ryan with helping the turn his life around, something which Carter clearly did. He went on to have his best years as a Minnesota Viking.
Carter is a great guy and a class act. He was a great football player on top of all that. It is a joke that this guy is not already in the Hall. I am sure this will be rectified next time around.